The March for Science may be over, but you can still take action. Check out the additional steps you can take to support science, from the March and its partners.
---
The AAS has joined with more than 100 other scientific organizations across all disciplines to become an official partner of the March for Science (#MarchForScience).
Scheduled for Saturday, 22 April, in Washington, DC — with satellite rallies in more than 500 cities across the US and worldwide — the March for Science "champions robustly funded and publicly communicated science as a pillar of human freedom and prosperity." Billed as a peaceful and nonpartisan event, the march will stress the importance of science to humanity and the role science has to play in informing government policy.
The AAS Council has endorsed the event's principles and goals, which include advocating for robust federal funding for all scientific disciplines and promoting diversity and inclusion — because scientific discoveries and inventions are made by people from all cultural backgrounds, belief systems, orientations, genders, and abilities.
We have developed two online forums to support AAS members who live in the DC area or who plan to visit to participate in the March:
March for Science Roommate and Housing Search: This forum, similar to the one we operate for AAS meetings, has a dual purpose: (1) to match members wanting to share a hotel room in DC and (2) to connect members traveling to DC for the March with DC-area members willing to host one or more members in their home. The first message in this forum contains instructions on how to use both features.
March for Science Carpool Search: This forum is designed to facilitate carpooling for AAS members who wish to drive (or ride) to DC. The first message in this forum contains instructions on how to use it.
In addition, on the morning of the march, we will open the AAS Executive Office at 7:00 am to provide morning refreshments to AAS members, as space allows. Please let us know if you plan to stop by.
Help with satellite marches: If you plan to help organize or participate in a local march, please let us know so that we can coordinate with you and help if we can. Contacts in the AAS office:
Why are you marching? Share your reason for supporting the March through our online form to be included in the #AASmarches social media campaign. Use that hashtag to share your favorite photos from the event on Twitter or Instagram, too.
March for Science Links
Advocacy Links
Get Your AAS + March for Science Shirts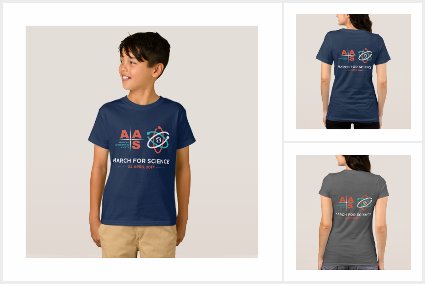 Whether you're marching in Washington, DC, or any other city worldwide, show your AAS pride by wearing our special AAS March for Science T-shirt, available in an array of colors and sizes.

AAS + March for Science Collection
Additional Events and Information
Wednesday, 19 April, 2:00–3:00 pm ET — Global Webinar: Advocating Science Beyond the March
Learn how to get involved in science advocacy after the March. (Advance registration is required.)
Friday, 21 April, 9:00 am–12:30 pm ET — Workshop: Catalyzing Advocacy in Science & Engineering
Learn about the role of science in policymaking. (Space is limited. Advance registration is required.)
Friday, 21 April, 1:30–4:30 pm ET — Workshop: Communicating Science
Sharpen communication skills to engage with the public, media, and other audiences. (Space is limited. Advance registration is required.)
Friday, 21 April, 5:30–6:30 pm ET — An Evening with John Holdren
Science advisor to former President Obama and former president of AAAS. (Space is limited. Advance registration is required.)
Friday, 21 April, 6:30–7:30 pm ET — Stand-Up for Science Reception
Cocktails, hors d'oeuvres, and pre-March conversation. (Space is limited. Advance registration is required.)
Saturday, 22 April, 8:30–9:30 am ET — Pre-March Rally with Scientific Community Leaders
(Continental breakfast beginning at 8:00 am ET.)
Saturday, 22 April, 9:30 am ET — March to the March
Walk with AAAS from its headquarters to join other science supporters on the National Mall.
Saturday, 22 April, Post-March–7:00 pm ET — Post-March Re-Charging
Unwind with a chair massage while plugging in your mobile device.
Saturday, 22 April, 5:30–7:00 pm ET — Post-March Happy Hour Celebration
Follow the March